Leber was a French historian and bibliophile, who, after collecting more than 30 years so much items in various fields, that it filled three big volumes of a catalog, sold his collection to the library of Rouen in 1839 - and retired. A part of this collection were playing cards and he also wrote a little bit about them. Famous between Tarot friends is the socalled Leber or Rouen Tarocchi, a fragmented deck with 30 cards, which Leber announced in his catalog with point XIV. "Tarots italiens du XVI. siècle, où sont représentées les quatre grandes monarchies de l'antiquité. 3o pièces fort curieuses, gravées sur bois, et peintes en or, argent et couleur. Ces cartes font partie d'un jeu vénitien a ux couleurs cpéei, bâtons, vases et deniers."

This deck is cause its very special figures of extraordinairy interest. The small arcana are the same as those of the 6 Cicognara cards, and one of the suits shows the heraldic design of the Rovere family (our report with pictures).

Another deck, which Leber took quite seriously, was this one, also mentioned in the catalog: "Cartes du Jeu de Piquet, inventé en France sous le règne de CHARLES VII, dont la composition, présumée gé- nuine, appartient à cette époque. Copie à l'aquarelle, soigneusement executée sous nos yeux , de 10 pièces gravées et coloriées vers le milieu du XV siècle ; savoir, le quatre Rois, les quatre Dames et deux Valets aux couleurs fran caises, avec des inscriptions gothiques de même origine. Ces précieux débris, récemment découverts, d'un jeu dont l'existence n'était même pas soupçonnée, offrent le document le plus neuf et le plus important qu'on puisse consulter pour l'histoire de nos cartes nationales. Sous ce point de vue, ils deviennent inséparables de peintures de Gringonneur, qui ne peuvent y suppléer. C'est ce produit de l'Age de» emblèmes et de la chevalerie, considéré comme type du jeu français, qui a fourni la base de la première partie du travail ci-dessus mentionné." You find some of the images at the left border.

The Catalog: "Catalogue des livres imprimés, manuscrits, estampes, dessins et cartes à ..." By Bibliothèque municipale de Rouen, Constant Leber (1839) (Vol. 1 of 4 ... includes the playing card collection).
Vol. 1-3 comprise the collection of M. Leber, which he presented to the Bibliothèque municipale, Rouen, in 1838. Vol. 4 comprises, in addition to indices for the complete work, a catalogue of the books acquired by Leber after his first collection was ceded to the city. This (second) collection was sold by L. Potier, November, 1860.





Collection des meilleurs dissertations: notices et traités particuliers ... Compiled by Constant Leber (1838)





Mémoires et dissertations sur les antiquités nationales et étrangères (1842) by Société royale des antiquaires de France ; Leber P. 256 - 384


Own Links

Foreign Links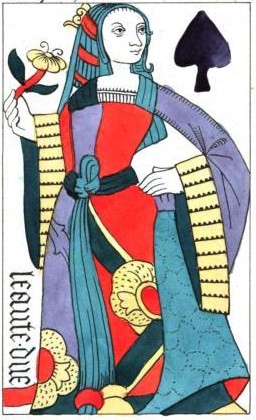 French Prototype Cards
15th century
(according Leber)



Now the ocalled "Piquet de Charles VII"

Today dated by Hoffmann to
"after 1515, Lyon" , 10 court cards
valet de trèfle - ROLAN
roi de trèfle - SANT SOCI
reine de trèfle - TROMPERIE
roi de carreaux - COURSUBE
reine de carreaux - EN TOY TE FIE
valet de pique - EMRDE OU [N]E TARDE
reine de pique - LEAUTÉ DOIT, OU IE AUTE DUL
roi de pique - APOLLIN
reine de coeur - La FOI ET PERDU
roi de coeur - (lègende coupée)